The name comes from Old English and may have meant OBroca's Wood or Grove.
---
Mediaeval Brockley


1182 Reference to Brocele.
C12 Henry II gave land to Premonstratensian canons before they moved to
Bayham Abbey in Sussex.


---
Tudor Brockley


1520s Cardinal Wolsey used estate to endow his abortive Cardinal college in Oxford.
Deptford end of Brockley went to Wickhams, Drakes and Tyrwhitt-Drakes of
Shaldoes, Bucks (see Brockley Property Guide).


---
Georgian Brockley


1809 Croydon Canal built.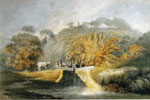 1836 Railway built on old Croydon Canal, which led to development of
Brockley.


---
Victorian Brockley


Lay on borders of Deptford & Lewisham parishes.
1850s Lewisham Way (ex High Road) developed to south and west.
1858 Brockley Cemetery built for Lewisham & Deptford parishes.
1863 Castle (C18) renamed Brockley Jack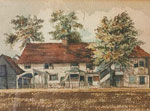 1866 St Saviour Church opened on Brockley Rise
1871 Brockley railway station opened
1872 Brockley Lane railway station opened
1892 Crofton Park railway station opened
1895 David Jones, artist, born in Arabin Road
1896 Hilly Fields open space saved from development.
1898 Brockley Jack rebuilt (named after local highwayman).


---
Edwardian Brockley

1900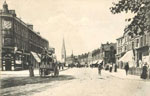 1910 Haymaking in Crofton Park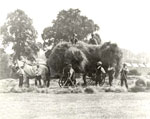 1913 Crofton Park Picture Palace opened (later Rivoli)
1917 Brockley Lane railway station closed


---
WW2 & Brockley

1944-5 Brockley came under attack from German V1 & V2 Flying Bombs

---
Post War Brockley

1959 Crofton Park Picture Palace re-opened as Rivoli Bllroom
1965 Became part of the borough of Lewisham
1974 David Jones died. Buried in Brockley & Ladywell Cemetery